The Federal Housing Finance Agency (FHFA) issued the 2016 maximum loan limits that will apply to conventional transactions beginning January 1, 2016.  These loan limits apply to both Fannie Mae and Freddie Mac.
The maximum loan limits for 2016 remain unchanged from 2015 and are provided for reference below.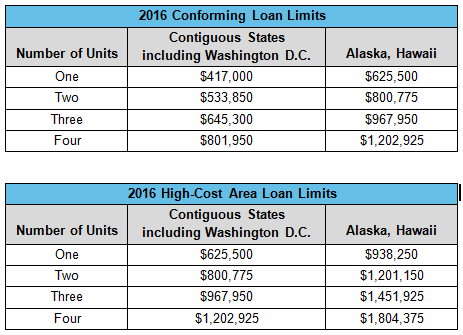 While the general loan limits remain unchanged a number of high-cost area loan limits increased.  The list of high-cost counties with new higher loan limits is attached for reference.
A complete list of all high-cost area counties and their maximum loan limits may be viewed at FHFA.
The new high-cost area loan limits are eligible January 1, 2016 for existing pipeline and new submissions.
If you have any questions, please contact your Account Executive.