The Department of Veterans Affairs (VA) announced the 2016 loan limits in VA Circular 26-15-31 issued December 17, 2015 effective for VA loans closed on or after January 1, 2016.
VA loan limits for 2016 will match conventional loan limits as set by the Federal Housing Finance Agency (FHFA) for Fannie Mae and Freddie Mac.  The increase in the maximum loan amount for 39 counties that applied to Fannie Mae and Freddie Mac transactions will also apply to VA transactions.
While VA does not impose a maximum loan amount the county limits are used to calculate the maximum guaranty amount. Loan amounts that exceed the county limit will require a down payment from the borrower.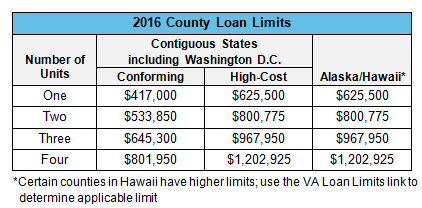 The 2016 limits by county may be viewed at VA Loan Limits and counties with an increased loan maximum are attached for reference.
As a reminder, county limits do not apply to IRRRLs.
If you have any questions, please contact your Account Executive.