The Federal Housing Finance Agency (FHFA) has announced an increase to the maximum loan limits for 2017 for both conforming and high balance/super conforming loan amounts.  The loan limits indicated below apply to both Fannie Mae and Freddie Mac transactions
NOTE:  As a reminder, HomeBridge limits the maximum loan amount on Freddie Mac transactions to $1M regardless of the number of units.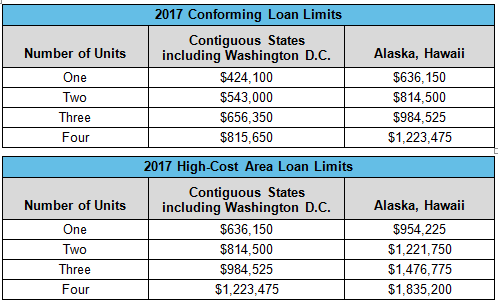 As a reminder, actual loan limits for certain high-cost areas may be lower than the maximum loan amount identified above.  The complete list of counties, including high-cost area counties and their specific maximum loan limit, may be viewed at FHFA
The new loan limits may be applied to new submissions and to loans currently in the pipeline.
Important Information – Fannie Mae
Fannie Mae will be updating DU with the new loan limits as follows:
Conforming Loan Limits: The weekend of December 10, 2016
High Balance Loan Limits: January 1, 2017
Loans submitted to DU with the higher loan amounts listed above prior to Fannie Mae's update of DU will receive an "Approve/Ineligible