Homebridge is pleased to announce significant enhancements to both the Expanded Plus and Elite Plus programs.  Highlights of the enhancements are detailed below
Elite Plus Program
Alt-Doc 12 and 24 months bank statement program now offers 85% LTV/CLTV up to a $2,500,000 loan amount with a minimum 720 credit score (previously max LTV was 80%) in addition to multiple other LTV/CLTV and loan amounts improvements (see matrix below)
Investment properties are now available for all documentation options (previously ineligible):

1-4 unit, purchase, rate/term and cash-out
Purchase and Rate/Term Transactions: Minimum 640 credit score with 75% LTV/CLTV and $2,500,000 loan amount
Cash-out Transactions: Minimum 720 credit score with 70% LTV/CLTV and $2,500,000 loan amount

Cash-out Transactions:

Owner-occupied and second homes:

Cash-out up to $500,000: No LTV reduction required (previously > $250,000 – $500,000 required 5% LTV reduction)
Cash-out $500,001 – $1,000,000: 5% LTV reduction required (previously               > $500,000 – $1M required 10% LTV reduction)

Investment Property:

Maximum cash-out $500,000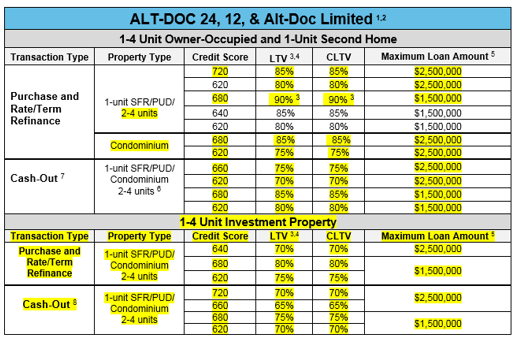 The Alt-Doc 12 and 24 now have two options for determining the borrowers qualifying income; In addition to a borrower or third party prepared P&L an Expense Statement may now be provided
When using an Expense Statement, the following applies:

The Expense Statement must be prepared and signed by a 3rd party (CPA or licensed tax preparer)
Expense statement must specify business expenses as a percentage of the gross annual sales/revenue (must be reasonable for type of business),
Net income from the Expense Statement is calculated by determining the total eligible deposits per the bank statements multiplied by the expense percentage provided by the CPA/tax preparer on the Expense Statement

When using a P&L the following applies:

P&L gross earnings should be within 15% of the bank statements gross deposits minus any ineligible deposits (previously 5%)
The qualifying income is determined by multiplying the borrower's ownership percentage by the lower of the net income from the P&L or total eligible deposits from the bank statements (previously 100% ownership required so multiplying by ownership percentage was not required)
Expanded Plus Program
The maximum loan amount is now $3,000,000 (previously $2,500,000)
Loan amounts were increased for all documentation options and all transaction/property types involving owner-occupied and second homes
Cash-out transactions with a 700 credit score, the LTV increased to 60%. Full and Alt-Doc 24 1-4 units eligible; Alt-Doc 12 and Limited 1-unit eligible (previously maximum 55% LTV)
Increased the maximum LTV for 1-4 unit investment properties for most loan amounts
Income from short term rentals is now eligible (previously ineligible). Requirements vary by documentation option; refer to guides for specific details
Expanded Plus and Elite Plus
The following enhancements apply to both the Expanded and Elite Plus programs:
Borrowers with minimum of 50% ownership in the business are now eligible for Alt-Doc 12 and 24 Bank Statement option when using business bank statements (previously 100% ownership required to use business bank statements)
Non-permanent resident aliens, with U.S. credit history, are now eligible (previously ineligible); refer to the guidelines for acceptable visa types/documentation
Collections/charge-offs may now remain open (previously must be closed) when:

< 24 months old with a maximum balance of ≤ $2,000
≥ 24 months old with a maximum balance of $2,500 per occurrence

Investment transactions have a 20% borrower own funds requirement prior to using gift funds (previously 30% borrower own funds required Expanded Plus; N/A on Elite as investment property was ineligible)
Borrower's may now have up to 15 financed properties, including subject (previously 10)
Reserve requirements have been lowered for higher loan amounts and the maximum number of months lowered to 12 months (previously higher loan amounts required 18 months PITIA)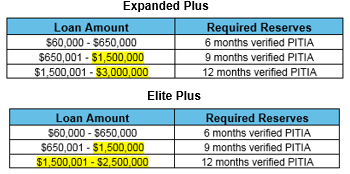 Up to 50% of business funds may be used for down payment and closing costs with no additional requirements. If more than 50% of business funds used only a CPA letter, stating the withdrawal of funds will not have a negative impact on the business, is required; a cash-flow analysis is no longer required
Clarified that tradelines seasoned 24 months, must have activity in the most recent 12 months.
Updated to note that borrowers who work for a family member are not eligible under the Alt-Doc Limited option
Updated to include acceptable net tangible benefits for refinance transactions
Clarified that when using rental income and the property is owned < 1 year cash flow is based on 75% of the lesser of the actual rent(s) or market rent(s) (previously 75% was not stated)
These enhancements are available Friday, June 14, 2019 for new submissions and loans currently in the pipeline.
The rate sheet will reflect these changes Friday, June 14,2019.
The Expanded Plus and Elite Plus matrices have been updated with this information and posted on the Homebridge website at www.homebridgewholesale.com
If you have any questions, please contact your Account Executive