HUD announced the FHA loan limits for 2022 in Mortgagee Letter 2021-28 dated November 30, 2021.  Significant increases to the "ceiling" are available for 2022.
The new loan limits apply to case numbers assigned on or after January 1, 2022

Actual loan limits for certain high-cost counties may be lower than the "ceiling" stated above.  To view FHA mortgage limits for 2022 by county, go to FHA Mortgage Limits and enter the following information for the subject property:
State: Select the state
County: Enter the county
Limit Type: Select "FHA Forward"
Limit Year: Select "CY2022"
Click "Send"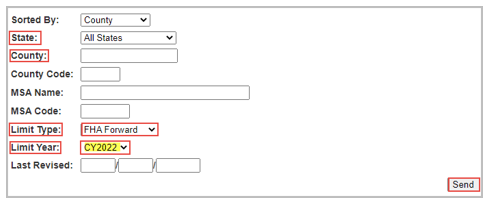 Additionally, FHA published a list of areas at the ceiling and between the floor and ceiling:
FHA loan limits do not apply to FHA Streamline transactions.  Additionally, FHA policy does not allow an existing case number to be cancelled for the sole benefit of using the higher limits.
If you have any questions, please contact your Account Executive