Homebridge is pleased to be introducing the Elite Access program.  This new non-QM program offers extremely competitive pricing.
Elite Access is available for new submissions on or after April 7, 2023.
Highlights of Elite Access
Elite Access offers three documentation options:

Full Doc,
Bank Statement (12 and 24 months).  Bank statement income may be documented as follows:

Uniform Expense Ratio
CPA Letter for Expense Ratio
Profit and Loss Statement
Deposits Less Withdrawals

Asset Depletion
1-4 primary residence and 1-unit second home eligible
Maximum 90% LTV up to $2,000,000 loan amount
Maximum DTI 50%
Minimum credit score 660
Purchase, rate/term, and cash-out refinance eligible
Maximum cash-out $1,000,000
Gift funds eligible after 5% borrower own funds requirement met
Purchase transactions with an LTV ≤ 70%, borrower contribution not required and all funds may come from a gift
First time home buyers and borrowers living rent free eligible
Permanent and Non-Permanent residents eligible
See guides for eligible documentation requirements
No residual income requirement
No payment shock requirement
Fixed rate fully amortizing 20 or 30 year loan term
Available in all 50 states
A full appraisal and one secondary valuation required on all transactions
Reserve requirements:

Loan amount $100,000 to $500,000: 3 months PITIA
Loan amount $500,001 to $2,000,000: 6 months PITIA
Borrowers with additional financed properties: Additional 2 months PITIA for each additional financed property
Cash-out proceeds are eligible to satisfy reserve requirements
Mortgage/rental history:

0x30 in previous 12 months
FTHBs: 0x30 in previous 24 months (at least one FTHB on the transaction must have a 24 month rental history)
Rural properties eligible; maximum 15 acres
Subordinate financing eligible
Refer to the Elite Access guidelines for complete details and requirements
Elite Access Full Doc, Bank Statement and Asset Depletion Matrix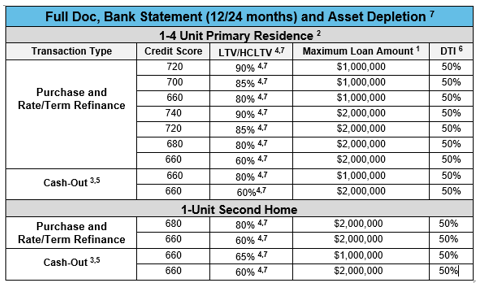 P.A.T.H. has been updated with the Elite Access offering.  Brokers must select one of the following from the Product section located on the Short Application screen:
Elite Access 30 year Fixed, or
Elite Access 20 year Fixed

Brokers must also select the appropriate documentation option from the Specialty Program section on the Short Application page
Elite Access 12 Month Alternative Doc,
Elite Access 24 Month Alternative Doc,
Elite Access Asset Depletion, or
Elite Access Full Doc

The Elite Access guidelines have been posted on the Homebridge website at www.HomebridgeWholesale.com on the Products and Guidelines page.
If you have any questions, please contact your Account