Homebridge is pleased to announce enhancements and clarifications to the Jumbo program.  Additionally, first time home buyer guidance was added to the Jumbo AUS option.
Jumbo Program Enhancements and Clarifications
1-4 unit purchase and rate/term refinance: $2,500,000 loan amount with 720 credit score, maximum 43% DTI, maximum LTV/CLTV 75%*, and 12 months reserves (new)
Lowered the minimum credit score for a 1-4 unit purchase and rate/term refinance term transaction to 680 (previously 700) with a $2,000,000 loan amount, maximum 43% DTI, maximum 80% LTV/CLTV* and 12 months reserves.
*Reminder: 2-4 units require a 5% reduction from the stated LTV/CLTV
Reserve requirements for transactions > 80% LTV/CLTV lowered to 12 months (previously 18/24 months reserves based on loan amount)
Maximum cash-out for > 50% LTV/CLTV increased to $350,000 (previously $250,000)
NOTE:  There is no change to the ≤ 50% LTV/CLTV max cash-out of $500,000
Lowered the minimum credit score for various second home and investment transactions (see matrices on next page)
First time home buyers:

The maximum loan amount has been expanded to $1,500,000 for all first time home buyer transactions in all states
Clarified that the maximum LTV/CLTV is 80%

Increased the loan amount that requires Homebridge management approval to loan amounts > $2,000,000 (previously > $1,500,000)
Delayed Financing:

Updated to allow the refinance of a property purchased with all cash to 180 days (previously 90 days)
The transaction will be considered a cash-out refinance (previously rate/term)

Added non-borrowing spouse to the Borrowers – Eligible topic
Clarified when a paystub is required, it must cover a minimum of 30 days
Clarified when subordinate financing includes a HELOC, the CLTV/HCLTV must be determined based on the full amount of the HELOC regardless of whether or not funds have been drawn on the HELOC
Removed the COVID-19 1004D temporary flexibilities; standard Jumbo appraisal policy applies
Updated gaps in employment guidance to gaps > 1 month must be addressed (previously gaps > 30 days)
Updated the Appraisals topic to:

Clarify that if a property is located in a FEMA disaster declaration area and the 1004D indicates repairs required, the repairs must be completed prior to loan closing and documentation of completion is required
Include minimum 3 comparable sales that cannot be > 6 months old at time of Underwriter review. One additional comparable sale > 6 months but ≤ 12 months old may be provided (in addition to the 3 comparables ≤ 6 months old) along with a CDA that supports the property value of the appraisal
Jumbo AUS Program Update
Updated the Jumbo AUS topic to include first time homebuyer requirements.  Generally the first time home buyer requirements are the same as under the Jumbo program except as noted below:
Maximum DTI: 45% (standard Jumbo max 43% DTI)
Reserve requirements (standard Jumbo 12 months PITIA)

Loan amount < $1,000,000: Reserves per AUS findings
Loan amount ≥ $1,000,000:  Reserves are the greater of: 3 months or AUS findings
Jumbo Program Updated Matrices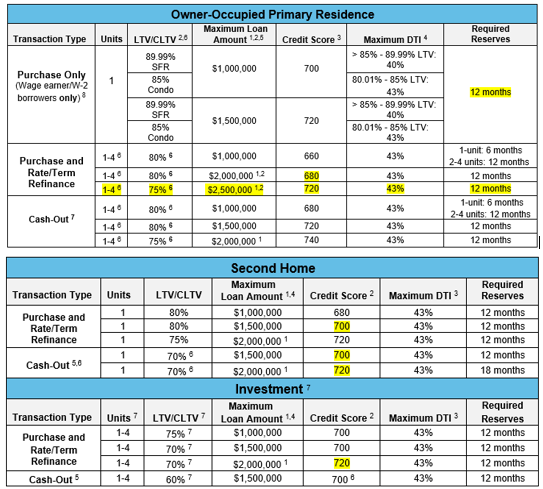 Reminder:  2-4 units require a 5% reduction from the stated LTV/CLTV
The Jumbo guidelines, which include Jumbo AUS, have been updated and posted on the Homebridge Wholesale website.
The enhancements are effective immediately and may be applied to new submissions and loans currently in the pipeline.
If you have any questions, please contact your Account Executive.