Homebridge is pleased to announce a new AUS option is available on the Jumbo program.
The new Jumbo AUS option allows loans to be submitted to DU or LPA and asset documentation is determined by DU or LPA findings subject to the transaction meeting specific criteria.  Additionally, credit score and reserve requirements are lower for certain transactions.
Highlights of the new Jumbo AUS are detailed below and the LTV, loan amount, and credit score matrices are on pages two and three of this Bulletin.
When a DU Approve/Ineligible or LPA Accept/Ineligible finding (the ineligible finding must only be due to the loan amount) assets may be documented per DU/LPA findings
Maximum $2,000,000 loan amount
Minimum loan amount must be $1 more than the county limit where the property is located for the applicable number of units (i.e. $1 more than the conforming or high cost limit, as applicable, where the property is located)
1-4 unit primary residence, 1-unit second home, and 1-4 unit investment property eligible
Eligible property types: SFR, PUD, and condos
Maximum 89.99% LTV/CLTV

> 80% LTV/CLTV is limited to wage earner/W-2 borrowers only (applies to all borrowers on the transaction); self-employed borrowers are not eligible > 80% LTV/CLTV
01% to 89.99% LTV: Purchase transactions only and 1-unit SFR/PUD eligible
01% to 85% LTV: Purchase and rate/term refinance and 1-unit SFR/PUD/condo eligible

Minimum credit score:

Primary residence: 660
Second home: 680
Investment: 700

Maximum DTI 45%, regardless of AUS Findings, no exceptions
Reserve requirements:

LTV > 80% regardless of loan amount: The greater of six (6) months PITIA or per DU/LPA
LTV ≤ 80% and:

Loan amount < $1,000,000: Per DU/LPA
Loan amount ≥ $1,000,000: The greater of three (3) months PITIA or per DU/LPA

Appraisal requirements for both purchase and refinance transactions are as follows:

Loan amount is ≤ $1,500,000: One full appraisal that meets DU/LPA requirements and one of the following:

A CDA within a 10% variance of the appraised value, or
A Fannie Mae CU score ≤ 2.5, or
A Freddie Mac LCA score ≤ 2.5

Loan amount > $1,500,000: Two full appraisals
NOTE:  An Appraisal waiver/ACE offer by DU/LPA is not eligible; an appraisal must be obtained
Construction-to-perm and New York CEMA transactions are not eligible
If business assets are used for closing costs, a letter from a third party (CPA, tax attorney, etc.) is required to document the use of funds will not adversely affect the business
Business obligations that are payable in less than one year are not required to be deducted from the business cash flow if there is evidence these obligations roll over regularly and/or the business has sufficient liquid assets to cover them
The loan must meet QM requirements and the Note rate cannot exceed the prime rate plus 1.50%
Jumbo AUS Matrices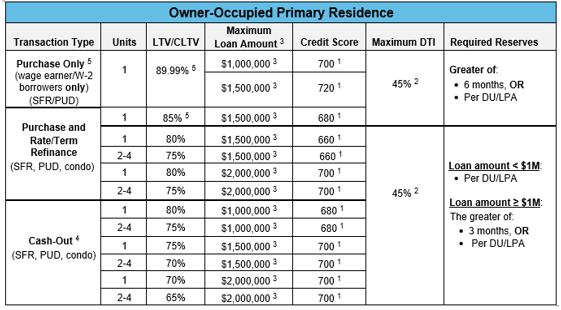 The new Jumbo AUS is included in the standard Jumbo program guidelines; the Jumbo AUS matrices begin on page 3 and an AUS – Jumbo Limited Documentation Option topic has also been added. The updated guidelines have been posted on the Homebridge website at www.HomebridgeWholesale.com
Pricing for the Jumbo AUS Option will be reflected on the Homebridge rate sheet as of May 10, 2021.
The Jumbo AUS Option is available for loans submitted on or after May 10, 2021.
If you have any questions, please contact your Account Executive.