Bulletin 15-08 originally issued on May 20, 2015 has updated the Assigned AMC for the Midwest region.  Refer to the highlights below for updates.
HomeBridge is revising its current policy for ordering an appraisal on Freddie Mac transactions.
HomeBridge will now require the appraisal be ordered from the AMC assigned to the regional territory as detailed in the table below.
To view a map of the territories broken down by state, click here: HomeBridge Wholesale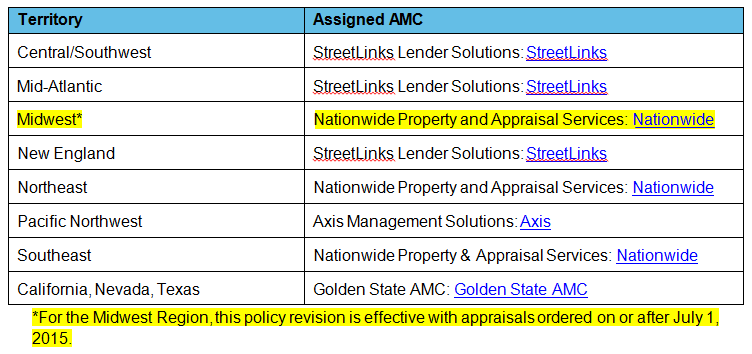 Brokers assigned to the HomeBridge Inside Sales team are required to order appraisals from StreetLinks.
This policy does not apply to government or Jumbo transactions.
The Freddie Mac Conforming and Super Conforming guidelines and the HomeBridge website have been updated with this information.
If you have any questions, please contact your Account Executive.