This Bulletin replaces all previous Bulletins issued on this topic                                     
Homebridge has assigned specific AMCs to regional territories as detailed in the table below.
Homebridge requires appraisals to be requested from the AMC assigned to the regional territory indicated below when using Homebridge Fannie Mae and/or Freddie Mac program guidelines.
NOTE:  Brokers, Emerging Bankers, and Non-Delegated Correspondents are not permitted to directly order the appraisal
To view a map of the territories, broken down by state, click here Homebridge Wholesale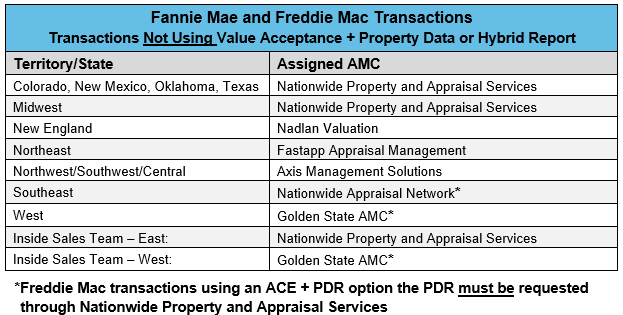 This policy does not apply to FHA, USDA, Jumbo Gold, Jumbo Elite, Access, and Elite Access transactions.
If you have any questions, please contact your Account Executive.